Product ID : BARRCLEAR25 Product Description : 25ltr Barrettine Wood Preserver Clear Product Price (ex VAT) : £146.99 Product Price (inc VAT) : £176.39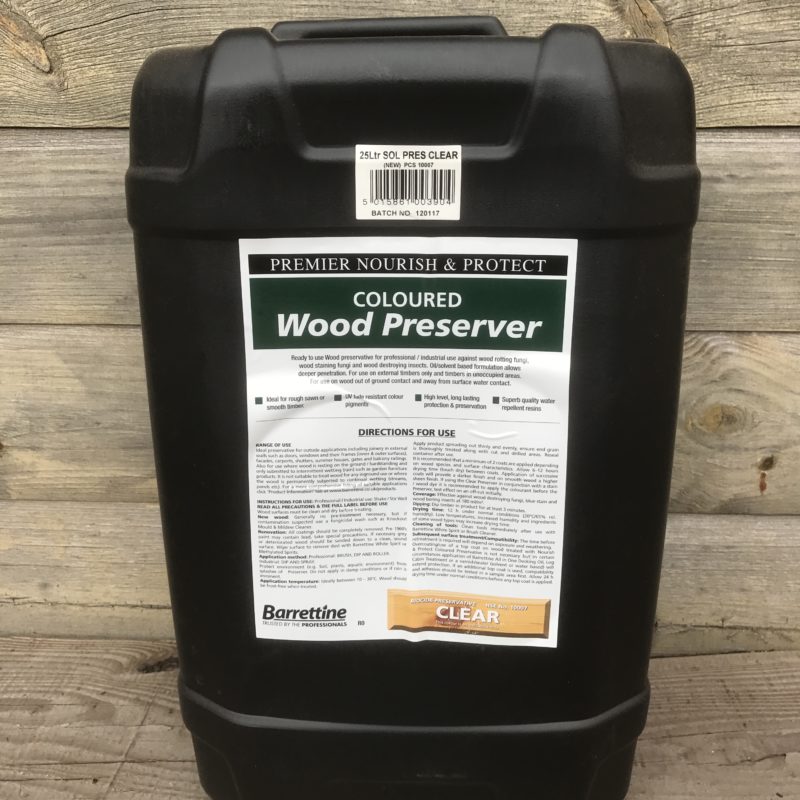 Further Details
25ltr Barrettine Wood Preserver drum Clear
A high-quality low odour solvent based, deep penetrating preserver which is used for the protection against wood destroying fungi (wet rot), wood discolouring fungi and wood boring insects. Provides a semi-transparent matt/satin finish allowing the natural wood texture to be visible.
No subsequent top coat product required unless for aesthetic purposes. For outdoor use and also for use
on windows/frames, external doors/frames (internal & external sections). The clear product can also be used on structural timbers in unoccupied areas such as floor joists.
UV Fade Resistant Colour Pigments
High Level, Long Lasting Protection & Preservation
Superb Quality Water Repellent Resins
Contains Permethrin, Tebuconazole & IPBC.
Protects uncontaminated timber against wet rot, decay and wood boring insect attack.
Mainly for external applications but some Internal. (refer to internal and external information on the back of the tin/container).
Approved under COPR/BPR
Suitable for rough, sawn or smooth timber, does not require over sealing.
Harmless to plants and pets when dry.
Oil/solvent based for deeper penetration.
Low odour ready to use formulation.
call for a quote

01252 795 005