Product ID : BARRGREEN Product Description : 5ltr Barrettine Wood Protective Treatment Holly Green Product Price (ex VAT) : £24.99 Product Price (inc VAT) : £29.99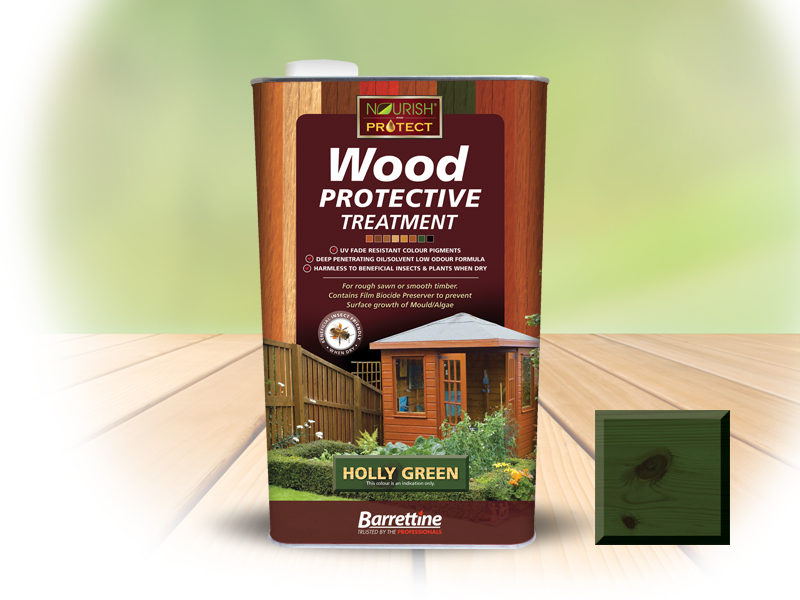 Further Details
5ltr Barrettine Wood Protective Treatment Holly Green
For rough sawn or smooth timber. Contains film biocide Preserver to prevent the surface growth of Mould/Algae.
Ideal wood treatment for outdoor timber structures such as Sheds, Fences, Trellis, Pergola and timber Gazeboes. Provides excellent water repellency/beading. Oil / Solvent based for deeper penetration leaving a transparent/translucent finish colour effect to wood, where the grain texture is still visible.
Contains water repellent resins and film biocide preserver to prevent the surface growth of mould/algae and together this helps reduce decay, swelling, twisting of wood. Pigments have good UV fade resistance and will help protect wood from UV damage. Available in a range of colours and clear, see colour swatch below. (Not ideal for decking or garden furniture structures as rub resistance may not be sufficient).
UV Fade Resistant Colour Pigments
Deep Penetrating Oil/Solvent Low Odour Formula
Harmless To Beneficial Insects & Plants When Dry
call for a quote

01252 795 005